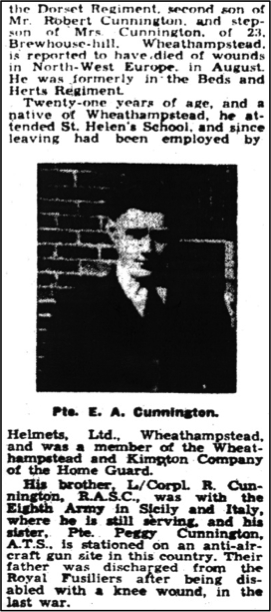 Left: Announcement in the Herts Advertiser on 22nd September 1944 reporting that Private Edward Alexander Cunnington had died of injuries received whilst on active duty in North-West Europe.
"A former half-back for St. Albans City Football Club, for two seasons, Pte. Edward Alexander Cunnington, of the Dorset Regiment, second son of Mr. Robert Cunnington, and step-son of Mrs. Cunnington, of 23, Brewhouse-hill, Wheathampstead, is reported to have died of wounds in North-West Europe, in August."
Edward Cunnington, who was 21 when he died on 12th August 1944, came from a family with a military background. His father was discharged from the Royal Fusiliers after suffering a knee injury during the 1st World War. Edward's brother, a Lance Corporal, served with the Royal Army Service Corps in Sicily and Italy, whilst his sister, Pte. Peggy Cunnington, was stationed at an anti-aircraft site in Britain. Born in Wheathampstead, Edward attended St. Helen's School and was employed by local company Helmets Ltd. He was also a member of the Wheathampstead and Kimpton Company of the Home Guard. He was survived by all of the above, plus his mother, Daisy Florence.
MILITARY RECORD
Private Edward Alexander Cunnington
Service number: 7960186
1st Battalion, Dorsetshire Regiment.
Edward died on 12th August 1944 and is buried at the St. Manvieu War Cemetery, Cheux, France.
He was entitled to receive both the War medal and the 1939-45 Star.
He is also commemorated on the war memorial outside St. Helen's Church, Wheathampstead.
EDWARD CUNNINGTON THE WARTIME CITY FOOTBALLER
Edward Cunnington played for St Albans City purely in wartime matches. Seven of his eight games came in the Herts & Middlesex League, with the other being a Herts Senior Cup tie in which City defeated Murphy Radio 3-2 at Clarence Park . Prior to playing for the City he turned out for St. Albans Wanderers. Predominantly a half-back, he also played at inside-right for St. Albans. He scored one goal for the Saints, that came with the opening strike during a 4-1 defeat to Barnet, at Underhill. For his final match of the 1941-42 season he turned out in borrowed boots after receiving a late call up due to a shortage of players. He made one more appearance for St Albans City during the following season. That came on 2ndJanuary 1943 whilst on leave from the Army. The game was a 5-5 draw with Barnet at Clarence Park ; a match that is the highest scoring draw in the history of the club either in peacetime or the war years. Included in the Barnet line up was one of their most famous players, Lester Finch, while George Butcher scored a hat-trick for St Albans City.