Left: Announcement in the Herts Advertiser on 14thAugust 1915 stating that Private Frederic Alfred Day was missing, presumed dead.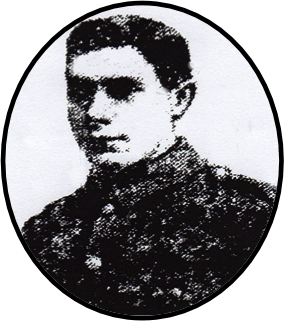 'There is, we regret to stress, every reason to be feared that another young St Albans soldier, has lost his life in the battlefields of France. Private Frederick Alfred Day, youngest son of Mr F.S. Day and Mrs Day, No.17 Welclose-street, who only attained his twentieth birthday last April, was early in July reported missing, and on July 24th his name again appeared in the casualty list under the heading; "Previously reported missing: Now missing, believed killed."
Day's father, also named Frederick, a painter by trade, had earlier received an unofficial report stating that his son had been 'wounded, taken prisoner or killed.' Upon further investigation he received a reply from the Adjutant of the 2nd Battalion Bedfordshire Regiment that confirmed the saddest of news. "Regret to inform you your son has been missing since June 6th, during the fighting round Givenchy. In my opinion, he was probably killed in the German trench, which his Company reached, but which they were afterwards bombed out of." Frederick Day was educated at the Abbey School and from the age of 14 worked for Mr Partridge Smith's straw hat manufacturing business in Victoria Street. He enlisted with the Army on 4th September 1914 following a large recruiting meeting held in Market Place, St Albans.
MILITARY RECORD
Frederick Alfred Day enlisted with the 3rdBattalion Bedfordshire Regiment. On 25th May 1915, now attached to the 2nd Battalion, he was sent to the Front. Three weeks later he took part in his first battle, and was not heard of again. His military details were; Service number 14998, 2nd Battalion, Bedfordshire Regiment. He is commemorated at the Le Touret Memorial in France and was awarded the 1914-18 Star Medal of The British Commonwealth, the Victory Medal and the British War medal.
FREDERICK ALFRED DAY THE FOOTBALLER
'Freddy' Day was a young goalkeeper who had been expected to press regular St Albans City custodian Herbert 'Micker' Smith for the goalkeeper's jersey at Clarence Park . Sadly, The Great War cut short his footballing exploits after he had appeared in just one Friendly match for the City. A former pupil at St Albans Abbey School he collected a Wix Shield winners medal with the Abbey when Luton Hitchin Road were defeated in the final at Clarence Park in 1909. Upon leaving school he spent four seasons with St Peters, winning the Mid Herts Division II in 1912-13. Whilst in training with the Army, at Bedford, he played for the 3rd Bedfordshire Regiment in the 'Company Football Combination.'