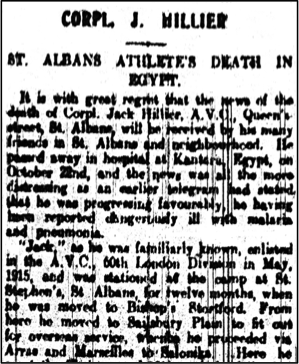 Left: Announcement in the Herts Advertiser on 9th November 1918 giving details of the death of Corporal Jack Hillier from malaria and pneumonia in Egypt, just three weeks before the end of the war.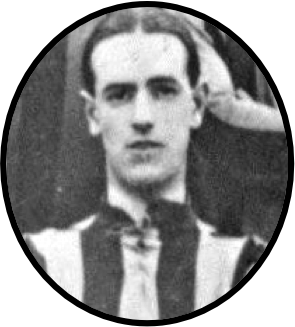 "It is with great regret that the news of the death of Corpl. Jack Hillier, A.V.C., Queen's-street, St. Albans, will be received by his many friends in St. Albans and neighbourhood. He passed away in hospital at Kantara, Egypt, on October 22nd, and the news was all the more distressing as an earlier telegram had stated that he was progressing favourably, he having been reported dangerously ill with malaria and pneumonia. Corpl. Hillier was 25 years of age and the only child, and leaves a widowed mother Alice, (his father Herbert had already passed away) to mourn the loss of a brave and splendid son."
Jack Hillier enlisted with the Army Veterinary Corp, 60th London Division, in May 1915 and, for a year, was stationed at the army camp on St Stephen's Hill, St Albans. For all of his active duty he served under Capt. Beckett, who himself was another St Albans resident. Educated at the Abbey School he was a regular at the Abbey and, on 2nd November 1918, a memorial service, attended by his many friends, was held in his honour in The Lady Chapel of the St Albans Cathedral.
MILITARY RECORD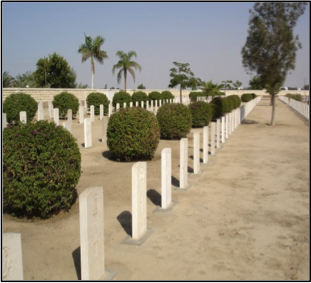 After enlisting, Jack Hillier trained for a year at St Albans before moving to Bishop's Stortford, Salisbury and onto Salonika via Arras and Marseilles. Corpl. Hillier became well known for the interesting letters that he sent home and taking a keen interest in Egypt. It was in Egypt that he first became ill and had a spell in hospital in Alexandria. He rejoined his unit in September 1917 and thereafter was attached to the foremost Divisions of the Army until reaching Jerusalem. Here he was attached to Base Headquarters of the A.V.C., before falling ill. He was mentioned in despatches. His full military details were; Corporal Jack Hillier. Service number TT/0160. 2nd/2nd (London) Mobile Vet., Section, Army Veterinary Corp. Pictured left is the Kantara War Memorial Cemetery, Egypt, where Corporal Jack Hillier is buried.
JACK HILLIER THE ST ALBANS CITY FOOTBALLER
Having been educated at the Abbey School, Jack Hiller played for the Abbey's football team, where he linked up with fellow future St Albans City players such as Charlie and Willie Paul, and Arthur and Charley Wiggs. He was a member of the Abbey side that was defeated by Watford Callow Land in the final of the Wix Shield in 1907. Jack signed for St Albans City for the start of the 1911-12 season and was a regular in the Reserve team until stepping up to the First team in March 1913. A dozen of his 14 First team appearances came in the SpartanLeague, although he also gained a Herts Charity Cup runners up medal. He was more successful with the Reserve team winning the Bingham Cox Cup in 1913, with victory over Sandridge coming a year after being runners up to Hatfield United. His one goal for the City came on 17th April 1913 when City defeated Newportonians 4-0 in the Spartan League at Clarence Park . Jack made his First team City debut on 21stMarch 1913 and played his final game on 3rd January 1914. Away from football, he was a founder of the St Albans-based Ver Tennis Club.