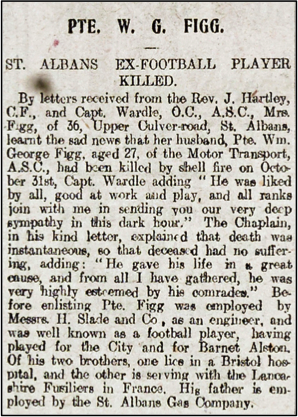 Left: Announcement in the Herts Advertiser on 26thNovember 1918 stating that William George Figg had been killed in action.
He died just 12 days before the end of the war.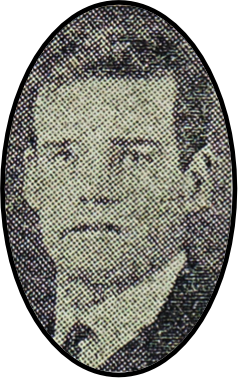 'By letters received from the Rev.J. Hartley, C.F., and Capt.Wardle, O.C., A.S.C., Mrs Figg, 36, Upper Culver-road, St. Albans, learnt the sad news that her husband, Pte Wm. George Figg, aged 27, of the Motor Transport, A.S.C., had been killed by shell fire on October 31st, Capt. Wardle adding "He was liked by all, good at work and play, and all ranks join with me in sending you our very deep sympathy in this dark hour." The Chaplain, in his kind letter, explained that death was instantaneous, so that deceased had no suffering, adding: "He gave his life in a great cause, and from all I have gathered, he was very highly esteemed by his comrades." Before enlisting Pte Figg was employed by Messrs. Slade and Co. as an engineer, and was well known as a football player, having played for the City and Barnet Alston. Of his two brothers, one lies in a Bristol hospital, the other is serving with the Lancashire Fusiliers in France. His father is employed by the St. Albans Gas Company.'
MILITARY RECORD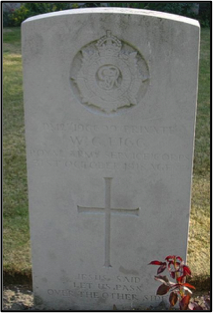 Pictured right is Private Figg's gravestone, which is situated in the Vichte Military Cemetery, Anzegem, West Vlaanderen, Belgium. His military details are; Private DM2/196699. "B" Seige Park attended XI Corps, Army Service Corps. Figg was entitled to receive both the British War Medal and the Victory Medal. Born in St Albans in July 1891, William George Figg was survived by his wife Mabel.
WILLIAM GEORGE FIGG THE ST. ALBANS CITY FOOTBALLER
Figg played three times for the St Albans City First XI and returned an unblemished record of three victories. His games, during the 1912-13 season, all came in the Spartan League, against Woodford Albion (away, 21st March, won 3-0), Tufnell Spartans (home, 24thMarch, won 4-0) and Sutton Court (away, 3rd pril, won 3-0). He also made three appearance for the City Reserves during the 1913-14 season. His first was a 3-0 defeat away to Leavesden Asylum on 20th September, followed on 27th September by a 2-1 win at Rickmansworth. Both of those games were in the Herts County League with his final game for the club being a 3-1 win away to Boreham Wood on 4th October, in the Mid Herts League. William Figg was brother to Harold Figg, who is one of the most significant players in the history of St Albans City, having been captain for many of the successful league and cup campaigns of the 1920's. After leaving St Albans, Figg joined Barnet Alston and played against his old club in a friendly match in April 1914, four of the players that featured in that game lost their lives during the 1st World War. And Figg's connection to St Albans City has carried on into the 21st Century with his great-nephew, Robert Walkley, being one of the regular photographers at City matches.