Raising funds through collections at football matches at Clarence Park was not uncommon during the 2nd World War, but there were other ways in which the Football Club's facilities could be used to help the war effort.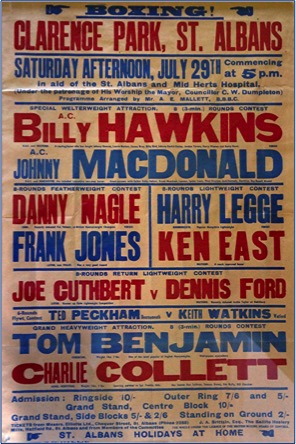 One alternative way was to stage boxing bouts in a ring erected in the centre of the football pitch. Pictured right is the poster for a Boxing Tournament held on 29th July 1944. The beneficiary here was the City Hospital which saw its coffers boosted by around £50. Unfortunately for those present the main bout did not take place, with no reason given for the non-appearance of A/C Billy Hawkins (R.A.F and Watford). His opponent, A/C Johnnie Macdonald (R.A.F and Manchester), was at the Park and to avoiding letting the spectators down completely he took part in a three-rounds exhibition match with Tom Benjamin (Edmonton). In the other big contest on the bill, Jim Galley (Royal Horse Guards) stood in for Charlie Collett (Hemel Hempstead) due to the latter suffering from tonsillitis.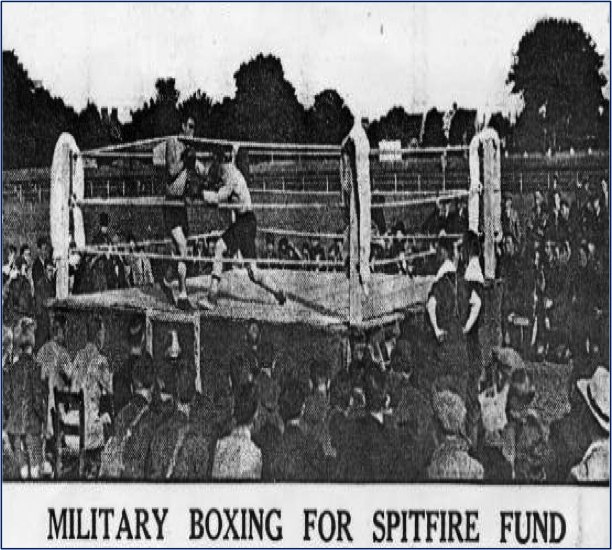 Four years earlier, on 21st September 1940, the first wartime boxing contest at Clarence Park took place in aid of the Spitfire Fund. On this occasion the bouts were between The Army and R.A.F. Henlow. The Army were no strangers to Clarence Park with various units playing ten friendly matches against St Albans City during the 2nd World War. One friendly was also played against an R.A.F. XI. The military teams were often reasonably strong, as they included former professional players who enlisted during the war. St Albans, on the other hand, were often below full strength due to their players being on military duty elsewhere.
Football and boxing are not the only sports to have been played on the football ground at Clarence Park . A rugby union club, Herts Wanderers, played four games at the Park during the late autumn and winter of 1907. They stayed only briefly, due to the pitch being shorter than stated it should be for rugby matches.
On 30th March 1935, a Durham County team took on an International XV, "In aid of the Fund of the High Sheriff of Hertfordshire for the relief of distress in County Durham."