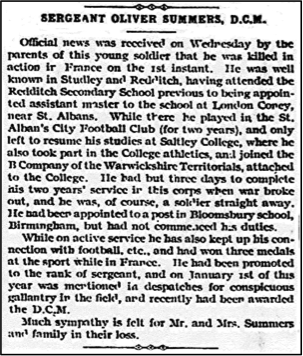 Left: Announcement in the Redditch Indicator on 29thJuly 1916 of the death of Oliver Summers on the Somme. Of the seven 1st World War casualties associated to St Albans City, Oliver Summers was only non-St Albans and district resident.
"Official news was received on Wednesday by the parents of this young soldier that he had been killed in action in France on the 1st instant. He was well known in Studley and Redditch, having attended the Redditch Secondary School previous to being appointed assistant master to the school at London Colney, near St. Albans. While there he played in the St. Alban's City Football Club (for two years), and only left to resume his studies at Saltley College, where he also took part in the College athletics, and joined the B Company of Warwickshire Territorials, attached to the College. While on active service he has also kept up his connection with football, etc., and had won three medals at the sport while in France."
Oliver Summers had been appointed to a post at Bloomsbury School, Birmingham, but was unable to take this due to the outbreak of war.

On 20thJune 1916 it was announced in The London Gazette (right) that Oliver had been awarded the Distinguished Conduct Medal; '1678 Sjt. O.Summers, 1/8thBn., R. War. R., T.F. For conspicuous gallantry when bringing in a wounded serjeant under heavy fire.'Just days later (1stJuly, 1916) Oliver Summers was killed on the Somme. He was not married and was survived by his parents Oliver and Sarah, of Littlewood Green, Strudley, Warwickshire.
MILITARY RECORD
Serjeant Oliver Summers D.C.M.
Service number 1678 1st/8th Battalion
Royal Warwickshire Regiment.
He was mentioned in despatches and received the Distinguished Conduct Medal (considered second in seniority only to the Victoria Cross). Oliver Summers was also entitled to receive the Victory Medal and the British War Medal.
He is commemorated at the Thiepval Memorial, Somme, France.
OLIVER SUMMERS THE ST. ALBANS CITY FOOTBALLER
Oliver Summers joined St. Albans City for the start of the 1911-12 season after accepting a teaching position at London Colney. A winger, he played six times for the City in the Spartan League, five of which ended in victory. He scored two goals, in wins over Tufnell Park and Tufnell Spartans as City went on to win the Spartan League title. Oliver also featured in 18 games for the City Reserves, scoring nine times. Whilst in the Reserve team he played alongside three other City players that lost their lives during the Great War; Arthur Gathard, Jack Hillier and Jack Rainsden . In the First team one of his team mates was another war casualty, Arthur Wiggs .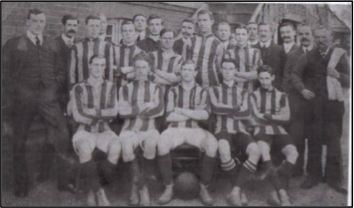 Above; St Albans City 1911-12, pictured in front of the cricket pavilion, Clarence Park . Oliver Summers is far right, front row.